The Les'n'John
FOND-U-LIKE
Website
---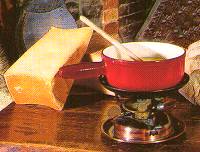 The name "Fondue" comes from the French fondre - to melt. Originating in Switzerland, and said to date from 1691, the true fondue is a combination of hard and semi-hard cheeses mixed together with wine and melted in a single handed pan known as a caquelon. Into this are dipped lumps of bread, spiked onto forks.
The idea of cooking things by dipping them on forks into pots has been extended by cooking pieces of meat in a pot filled with hot cooking oil - the Fondue Bourguinonne, or broth - the Fondue Chinoise.
Again the cunning Swiss expanded on the idea of melted cheese and using their other major product, chocolate, produced a dessert fondue into which you dip fresh fruit.
In the UK during the 1970s, "Fondue Sets" became a favourite gift, but after one or two meat fondues were usually forgotten. However, on alpine or skiing holidays, these meals are still very popular. Sometimes those who lose their bread/meat in the pot are required to do a forfeit, give a kiss, or pay for the next bottle of wine. What you choose to do in the privacy of your own home, we do not wish to know about.
This website gives a comprehensive selection of the types of fondue you can attempt. To bring them to you, Lesley Ogilvie and John Prentice have done extensive research in restaurants in the UK (we recommend the St. Moritz Swiss Restaurant in London's Wardour Street - see their website), Switzerland, Austria, Italy and France, plus experiments in the kitchen. It was a tough job, but somebody had to do it.
All recipes given are the size for serving two people.
Bon appétit!
---
FONDUE TYPES
Cheese Fondues
Fondue Bourguinonne Types
Fondue Chinoise Types
Chocolate & Dessert Fondues
Fond-U-Like Cheese Specials
---
FONDUE TRAMS
In the winter Zürich Tramways (VBZ) operate a fondue tram tour running from Bellevue, using restaurant tram 1802 (above left) or more recently preserved tour car 1330 (above centre, photos VBZ). Details of this can be found at the VBZ website
Bern Tramways also operate a Fondue tram tour, theirs running from Guisanplatz and using preserved car 145 (above right, photo Bernmobil). See the Bernmobil website
---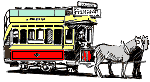 Interested in Tramways?
Then try the Tramway Information website
also by John Prentice.

Contact the Webmaster, John Prentice





Reload Home if you linked directly to this page


© Copyright John R. Prentice Software 2022