Chocolate Fondues
---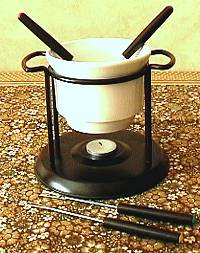 The Chocolate Fondue is a dessert dish served in a small ceramic pot, and consists of dipping fresh fruits into melted chocolate. Shown (right) is the sort of fondue set used.
Ingredients
100 grams - Semi-sweet high quality plain or milk or white chocolate

80 ml - evaporated milk

Assortment of fruits such as apples, pears, bananas, kiwi fruit, strawberries, pineapple
Method
Cut the fruit into small 25 mm pieces. Serve on individual dishes. Break up the chocolate and mix it with the evaporated milk in a saucepan. Melt over a low heat stirring constantly with a wooden spatula. Alternatively the mixture can be melted in a microwave oven, stirring every 30 seconds until liquid. Some chefs prefer to melt the chocolate in a bowl over boiling water.
Transfer the melted mixture to the ceramic pot, which can be pre-heated with hot water, and place it on its stand in the centre of the table. The pot is kept hot by a small night light (tea light) candle in the base of the stand.
Each diner puts the fruit onto a fork and coats it with the chocolate in the pot.
---
Suggestions
Substitute some of the evaporated milk for a little liqueur or spirit

Add crushed nuts, raisins, finely chopped fruit or small marshmallows to the chocolate mixture

Dip marshmallows instead of fruit

Dip cubes of brioche or toasted sweet bun

Swirl single cream onto the chocolate just before serving

Swirl toffee or honey onto white chocolate just before serving

Try using Toblerone chocolate

Try using a flavoured chocolate, for example orange. Lindt Excellence "Intense Orange" is especially recommended.

Try stem ginger dipped into plain chocolate

Try strawberries dipped into white chocolate
---
Sticky Toffee Special
For those who do not like chocolate (is there anyone?), for those where chocolate does not like them, or just for something different to try, here is a toffee alternative.
Ingredients
25 grams - butter

100 grams - brown sugar

175 ml - single cream

1/2 - teaspoon ground cinnamon

1 - tablespoon cornflour

1 - tablespoon maple or golden syrup

Assortment of fruits etc. as for chocolate fondue
Method
In a saucepan gently heat together the sugar, butter and cinnamon until melted and then boil for one minute. Stir in the cream, syrup and the cornflour (mixed with a little water) and cook until the mixture thickens.
Transfer the mixture to the fondue pot and sprinkle on a little more cinnamon, then serve as for the chocolate fondue, being careful not to allow the toffee to burn. An alternative flavour to cinnamon would be to use vanilla in the form of either a pod (opened and with the seeds scraped into the mix) or vanilla extract.

---

Go Back to Previous Page

Add the Fond-U-Like website to your favorites

Reload Home if you linked directly to this page


© Copyright John R. Prentice Software 2011