Fondue Bourguinonne
---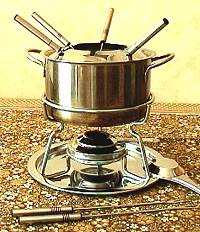 The hot oil Fondue Bourguinonne is the favourite for the "Fondue Evening" in Austria and is popular with the British. Shown (right) is the sort of fondue set used.
Ingredients
Method
Trim all gristle from the steak and cut it into 25 mm cubes. Serve the raw steak on two individual dishes. The pot is half filled with a vegetable oil suitable for frying.
Heat the oil in the pot on your cooking stove until it is at frying temperature and then place it (with care) on its stand in the centre of the table. The pot is kept hot by a spirit burner in the base of the stand.
Each diner puts the meat onto a fork and cooks it in the pot. After cooking the meat is dipped into the sauces and eaten.
Chips are usually served as a side dish, although we prefer rösti to give a more authentic Swiss style. A baked ("jacket") potato is a nice alternative.
For

suggestions on suitable dips, go to:-

Dips for Meat Fondues

---
Alternative meats etc.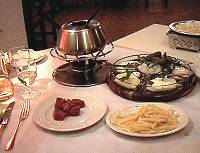 Lamb leg or chump filet - include mint jelly as a dip

Pork neck filet (be sure it is well cooked) - include apple or apple and ginger sauce as a dip

Chicken - we have seen chicken suggested as a fondue meat, but extreme care should be taken to see that the meat is cooked right through and that no raw meat is allowed to contaminate the cooked meat.

Turkey - use breast cut into strips

Duck - use breast cut into strips

Fish - cubes of almost any type, plain or with breadcrumbs or batter

Prawns, shrimps, scampi, plain or with breadcrumbs or batter. Fish and shellfish fondues are sometimes known as Fondue Neptune.
Vegetables
As a variant, some vegetables can also be diced and cooked in the fondue pot. These are some suggestions.
Note that meats and fish can be marinated first to provide variety. As another variant, meat, fish or vegetables can coated in breadcrumbs or batter before serving. Alternatively a batter dip could be provided at the table. Similarly diced banana and pineapple can be battered at the table and cooked in the hot oil, then dipped in icing sugar or syrup to produce a dessert fritter.
Suggested wines
For a fondue with top quality meat, you need a nice red wine to match. We like Rothschild's Mouton Cadet. For a Swiss red, try Dôle. A dry white German Hock is better with fish.
---
"Indian" Special
Using the standard method as above we created an "Indian" special. Use stir fry beef (true Indians would of course probably use lamb, chicken or prawn).
The dips we used were a selection of Indian dips occasionally available from Sainsbury's (a British supermarket) which consisted of Spicy Mango, Madras, Korma and Jalfrezi, plus mango chutney and lime pickle, but you can substitute any suitable Indian style dips or sauces.
In addition to the meat, we cooked in the fondue pot diced Brinjal (aubergine - egg plant) and Bhindi (okra - ladies fingers).
As side dishes we served Masala Pappadums and Peshwari Naan bread and an Indian style beer (Cobra or Kingfisher).
---
Oriental Prawn Special
Using the standard oil method as above we created an Oriental Prawn special. Use around 300 grams of breaded spiced prawns. These can be obtained frozen from most supermarkets. Just prior to serving they can be slightly defrosted in a microwave oven.
The dips used were Thousand Island seafood sauce, Tartare sauce and a proprietary Indonesian Satay sauce. The Satay sauce is best served hot and those with nut allergies are reminded that it contains peanuts.
As a side dish we served a chinese style salad and we drank Tiger beer (from Singapore).
---
Spicy Duck Special
Using the standard oil method as above we created a Spicy Duck special. Use around 400 grams of duck breast cut into thin strips with fat and skin removed.
The dips used were Thousand Island, Salsa, Soured Cream and Chive, Nacho Cheese, Guacamole and Hoisin sauce.
We provided flour Tortillas (you could use chinese pancakes) for wrapping some of the duck together with chopped spring onions, cucumber and Hoisin sauce.
We also served mixed salad and lemon and rosemary rice and we drank Belgian beer.
---

Go Back to Previous Page

Add the Fond-U-Like website to your favorites

Reload Home if you linked directly to this page


© Copyright John R. Prentice Software 2011