FOND-U-LIKE
Cheese Specials
---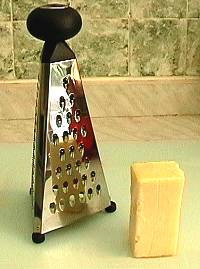 The cheese fondue gives the maximum scope for experiments. You can try all your favourite cheeses, alone or in combination. Most hard and semi-hard cheese that melts nicely can be used. Test by melting a bit on some toast first to check. Here we have created some "national" and interesting fondues that you might like. Use the recipe on the Cheese Fondue page but substitute a total of 400 to 450 grams of these cheeses. We have checked them all out.
When using milder cheeses, flavour can be increased by adding nutmeg, paprika, Tabasco, mustard, ground cumin or Worcester Source. Thicker fondues can be thinned with a little double cream. As a variant, instead of using wine in the fondue try beer, lager or cider, and other spirits such as Whisky instead of the Kirche.
Swiss Mountain
Vacherin
Bündner Burgkäse
Davos Delight
Vacherin Fribourgeois
Davoser Burgkäse
A Moitié Moitié based on these two Swiss cheeses.
Rhône Valley
Bovonne (a Gruyère type cheese from the Chablais district of the canton of Vaud)
Maigrion (from Sierre in the canton of Valais)
Bernina Pass
The first cheese comes from cows grazing on pasture around Piz Bernina (4049 m), to the north of the Bernina Pass. The second is from the Poschiavo valley, just to the south side of the pass. We had a starter of Bündnerfleisch, which had also been produced in this region.
Jungfrau Region
Wengener - Allmend
Grindelwaldener
These two Burgkäse come from cows grazing on pasture close to the Eiger (3970 m) and Jungfrau (4158 m). Again Bündnerfleisch makes a good Swiss starter.
Grindelwalder
Grindelwalder Bärgmutschi
Grindelwalder Bärglerchäs
Two alpine cheeses from the Grindelwald pastures of the Jungfrau region of the Bernese Oberland. Once more Bündnerfleisch makes a good Swiss starter.
Titlis
These Burgkäse are from the valley below the Titlis (3238 m) in the central region of Switzerland.
Three Cantons
Luzerner Rahmkäse
Berner Käse
Aletsch Grand Cru
These three cheeses are from the adjacent cantons of Lucerne, Bern and Valais.
Three More Cantons
Appenzeller
Vacherin Fribourgeois
Simmentaler (Bern)
Three cheeses from different cantons are used in local fondues and are combined here. As an appropriate starter we used Appenzeller Mostbröckli beef.
Farmer's choice
Gruyère
Emmental
Comté
Use the three cheeses in equal quantities to produce a fondue by the standard method. To the mixture add a couple of finely chopped spring onions, a finely chopped mushroom, pinches of dried sage, thyme and parsley. Season with Swiss Raclette spice. A very tasty fondue.
Austrian
Salzburgerland Almkönig
Tiroler Edelziege
Serve with sautéd baby chestnut mushrooms in addition to bread.
Vorarlberg
Vorarlberger Bergkäse
Montforter
Räßkäse
A blend of these three cheeses made from Vorarlberg milk.
Tyrolean
Berg Senn Tiroler Treu
Kaiser Max Tirol
Urtyroler
Three cheeses from the Austrian Tyrol around Kitzbühel.
Austrian Mountain Flavours
Bärlauchkäse Bergbauer
Sulzberger Pfeffer Rebell
Vorarlberger Bergkäse
The first of these cheeses contains wild garlic. Rebell cheeses are made from hay milk and this one contains peppers. The Bergkäse was added to strengthen the flavour.
Platinum Jubilee
West Country Cheddar
Stilton
Double Gloucester
To celebrate the late Queen Elizabeth II's Platinum Jubilee, we tried this blend of classic English cheeses, perhaps with a glass of Champagne.
English
Serve with sliced apple in addition to bread.
Better Red Than Dead
Red Leicester
Double Gloucester
Use red wine instead of white and add some tomato purée to the mixture.
True Blue
Blue Stilton
Shropshire Blue
To get the blue look, keep back a little of the cheese with "blue streaks" and add just before serving.
Welsh
Y-Fenni (A mature Welsh Cheddar containing ale and whole grain mustard. Y-Fenni is the Welsh name for the town that the English call Abergavenny.)
Serve with baby leeks and potatoes, we tried anya potatoes, in addition to bread.
Manx Fondue
Oak Smoked Cheddar
Black Peppercorn Cheddar
Two cheeses from the Isle of Man Milk Marketing Association, blended to produce this unusual fondue. The Oak Smoked combines the flavour of Manx mature cheddar with that from the Island's traditional smoking skills. The Black Peppercorn adds bite.

Hong Kong Hallowe'en
Gruyère (200 grams)
Emmental (200 grams)
Pumpkin (150 grams)


Bizarrely we first found pumpkin fondue in Hong Kong (hence the name and flag). Use the standard fondue method. Finely grate the flesh of the pumpkin (not the skin, fibre or seeds). Add to the pot and cook in with the wine. Grate a little nutmeg into the mixture. As pumpkin is very seasonal in the U.K. (in the U.S. you can get it canned), you could substitute a squash. For an all American version, use Monterey Jack cheese. In a later version, we added some finely chopped mushroom and spring onion to the mix to make it a little more "Chinese". Note that as a novelty, the whole thing could be served in the hollowed out pumpkin instead of in the fondue pot.
Indian Muttar Paneer
Paneer (150 grams)
Mild Chedder (250 grams)
Frozen or fresh peas (150 grams)

This recipe sets out to replicate the Indian dish Mutter Paneer (various spellings found) in fondue form. Use the standard fondue method for the cheeses, but as it does not melt, the paneer is best cut into small cubes rather than being grated. Pre-cook the peas in boiling water. In a little oil, sauté a small finely chopped onion and some crushed garlic. Add ¼ teaspoon chilli powder, ½ teaspoon ground ginger, ½ teaspoon turmeric and ½ teaspoon ground coriander and cook for a few more minutes. Add this spice mix to the melting fondue mixture, together with the peas and some tomato purée, and allow it to thoroughly cook in. Serve with Naan bread for dipping in the fondue. Caution: This highly spiced cheese fondue is quite unlike others you may have tried.
French Onion
Camembert (250 grams)
Roquefort (150 grams)
As these cheeses are soft, keep the wine quantity to a minimum. Sauté a chopped onion in butter together with a little brown sugar, a splash of balsamic vinegar and some garlic, and add to the mixture. Serve with sautéd baby chestnut mushrooms and with some of the bread lightly toasted to form croûtons.
Haute-Savoie
Two cheeses produced by farmers in this region of the French Alps. Add grated nutmeg to the mixture.
Petite Sayoyarde
Uses two of the lesser known cheeses found in Savoy fondues. Add grated nutmeg to the mixture.
Albertville
Comté de Savoie
Tomme de Savoie
Persillé d'Albertville
A Savoyarde style fondue with local cheeses from around Albertville. Add grated nutmeg to the mixture.
Dauphinoise
Add grated nutmeg to the mixture. A Savoyarde style fondue but using Saint Marcellin, a cheese from the Dauphiné region east of Grenoble.
Bordelaise
Comté Extra (from the Jura)
Etchola (from the Pyrénées Atlantique)
Made with white Bordeaux wine and using two cheeses that are often sold in the Bordeaux region. We also added small pieces of fried bacon to the mix (as in Fondue Paysanne) and served with sautéd baby chestnut mushrooms.
Piedmont
Note the Italians tend to make their fondues thinner than the Swiss, and often serve them as starters.
Dolomiti
Cheeses from the Dolomites. Fodom is produced in the area around Cortina d'Ampezzo. Val di Fassa comes from the valley of that name.
Quattro Formaggi
Gorgonzola
Mozzarella
Two other cheeses to suit. We used Cambozola ( Bavarian Brie) and Canadian Cheddar.
Dutch
Double Dutch
Belgian
Baltic Bliss
A blend of two cheeses (siers) from Latvia. We served with anya potatoes for dipping in addition to bread.
Scandinavian
Havarti (Denmark)
Danish Blue
Jarlsberg (Norway)
North American
Monterey Jack
Canadian Vintage Cheddar
Hot'n'Spicy
Mustard Seed Cheddar
Chedder with Peppers and Chilli ("Mexicana")
Bavarian Basil with Chilli
Add Whisky instead of Kirche.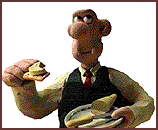 Cracking Cheese Gromit
Wallace would approve of this one.
---

Go Back to Previous Page

Add the Fond-U-Like website to your favorites

Reload Home if you linked directly to this page


© Copyright John R. Prentice Software 2022